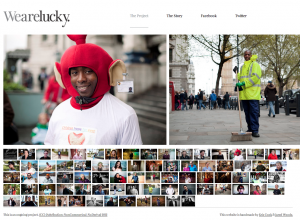 If I suddenly came into millions of dollars, I would immediately reinvent myself as a traveling poet. I'd explore the world by boat. My new uniform would consist of white linen pants, white loose button down and a baby blue ascot. I'd  smoke a pipe and always go barefoot (even to formal events). My children and wife would stay by my side,  and we would be accompanied by a giant Indian body guard who would double as the kids' tudor. Enough about me…
The generous person who started we-are-lucky.com, however, had a more philanthropic idea. He decided to randomly give away £1000 every day to a person who promised to do something good with the money. On the site, he thoughtfully documents their stories – some silly and some beautiful.
Wouldn't it be great if brands acted more like people?